Gourmet Gift Chocolates Handmade in Milwaukee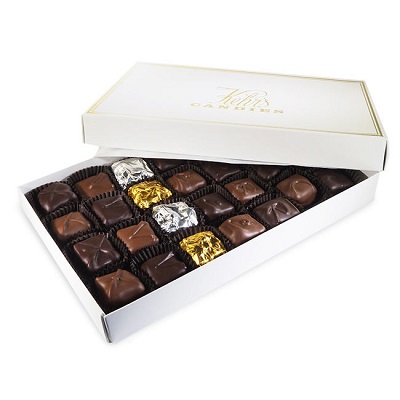 Indulge in Legendary Seasonal Candy Treats from Kehr's
Family-owned Kehr's Candies has been handcrafting chocolates and candy since 1940. Our original recipes and candy making methods let you celebrate your special occasion or holiday the old-fashioned way: with delicious traditional treats made from the finest ingredients.
Order online or visit our candy shop in the Milwaukee Public Market for decadent gift ideas year round.
Christmas Chocolates
From our family to yours, luxury holiday chocolate creations made from scratch just like the ones Grandma used to give you.
Solid Chocolate Candy Canes
Solid Chocolate Noel Presents
Solid Chocolate Santas
Solid Chocolate Christmas Trees
And More!
Christmas Chocolates
Valentine's Day Chocolate
You'll melt hearts when you treat your sweetheart or crush to Milwaukee's best handmade chocolate from Kehr's. We sell:
Angel Food Candy
Variety Box of Gourmet Chocolate
Assorted Meltaways
Chocolate Bar Boxes
Easter Candy
Fill your Easter baskets with quality handmade chocolate free from artificial dyes or flavors.
Solid Chocolate Easter Eggs
Solid Chocolate Easter Bunnies
Solid Chocolate Easter Bunnies with Chocolate Eggs
Solid Chocolate Chicks
And More!
Easter Chocolates
Mother's Day Chocolates
Get your mother the homemade chocolates she deserves this Mother's Day from Kehr's Candies in Milwaukee.
Chocolate covered creme filled sandwich cookies
Sea salt caramels
Angel food
Irish cream meltaways
Father's Day Chocolates
Dad loves homemade meals. He loves chocolates. We're willing to bet he loves homemade chocolates. Try some from Kehr's Candies.
Orange peel chocolates
Dark chocolate ginger candies
Assorted chocolate covered nut chocolates
Party pretzel boxes
Birthday Chocolates
Assorted meltaways
Pretzel party boxes
Variety packs
Wedding Chocolates
Bulk mint meltaways
Bulk mixed meltaways
Bulk nonpareils
Bulk sea salt caramels
Bulk variety packs
Bulk Valentine's nonpareils